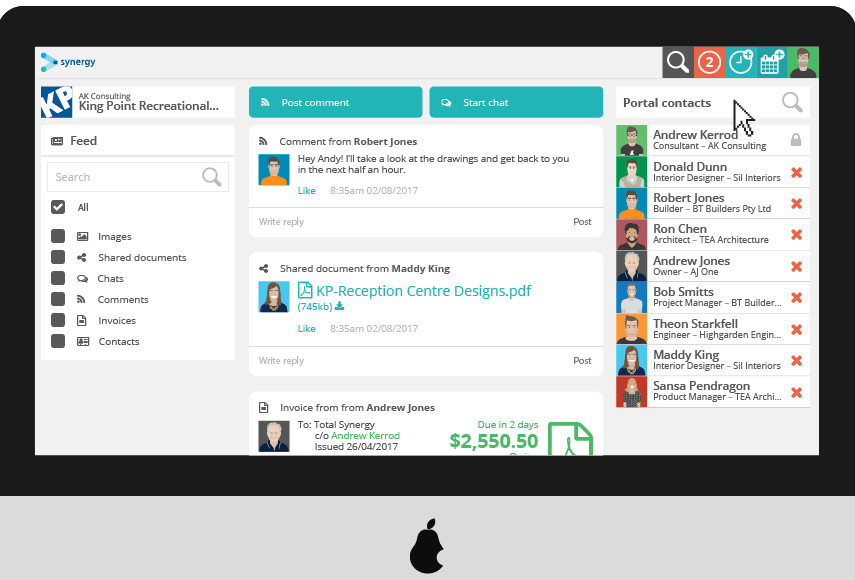 Project portals enable the whole project team to work out loud in a secure, collaborative space.
Synergy project portals allow you to invite anyone, whether they're a Synergy user or not, to securely login to access the portal. There are no extra charges for people you invite to join a project portal.
Key benefits of using Synergy's project portals for secure, online collaboration: 
Project activity feed
Project chat — private and group
Shared documents, images
Share and download transmittals
Track access to documents
Securely invite third parties
Portal remains active post project
Project portals let you communicate and share files with your internal project team and external project contacts.
Project portals are a central location where all members of the project team can work together on project tasks. Portals are created automatically for each Synergy project. The project manager selects which project contacts and internal staff will have access for each project portal. Project contacts can be anyone from the client, to suppliers, contractors, other consulting businesses, freelancers… As long as you create them as a Synergy contact, they can be added.
The power of chat
Synergy project portals include private one-to-one, and one-to-many chats. Threaded chat communication functions are enabling businesses and project teams to reduce emails and meetings.
Instead of searching through a wandering, disconnected, partially-informed batch of emails to find something you think someone wrote or attached, collaborative communications shows a threaded, searchable history of chats and comments. What's more, by including your whole project team in the portal, you can save time by reducing the need for meetings that consume time (aka dollars) in bulk.
Project portal security
It's important to have a level of security in the portal, as you may not want all portal guests to have access to all documents, images and chats. Portal users can only see chats and documents in portal feeds they've been named in.
"Project portals, shared documents, project conversations... all the project information is in one place where the right people can access it."
Chris Lelliott | Director, MVL Architects and Surveyors
See all stories
Benefits of Synergy project portals
Document search — by sharing your project documents in the portal, you don't have to wade through endless emails looking for an attachment. It's a central place for the whole project team to find and comment on project documents including transmittals
Mobility — whether on site, in the office, in transit or at home, as long as your device is online, you can communicate in the portal. If on site, take a photo of a defect or issue with your smart phone, upload to the portal and get the team to comment
Reduce risk — a central place for the whole project team to access documents means you're not relying on emails to track which document or drawing everyone is working from. You can track access and prove someone opened the current version
Reduce emails (more time) — project chats remove the need for so many emails. This categorically saves the project team time and increases productivity
Reduce meetings (more time) — by using open, collaborative communications platforms like Synergy project portals, less time is wasted in meetings
What you get with Synergy project portals
Project feed — this is a feed of all the activity in the portal (think Facebook feed, but without animals doing tricks)
Documents — files shared can be downloaded from the portal. Share large files with the team to avoid using email, or services like Dropbox, to share project files and drawings
Transmittals — transmittals are 'sent' to the project portal feed. Anyone it was sent to is invited to the portal and can download the transmittals documents. You can track who downloaded the and when.
Tracking — see when files have been accessed as recipients login and download them
Image gallery — view the shared project images in the portal. Add comments to each image that can be read by the entire project team
Contact details — look up contact details for the project team (full access only)
Comments — create a threaded series of comments the entire project team can see in the portal. Add attachments to the comments — documents, images, design files — and keep all the feedback in the same place in a threaded conversation
Chat — hold a private one-to-one, or one-to-many conversation using the chat function
Invoices — download any invoices that have been sent to you for the Synergy project (only invoice contacts can see invoices)
Visibility — no arguments about which version of a document everyone's working on with tracking showing who has downloaded or accessed documents and images
Search — a powerful function that allows you to search for words in chats and comments, contacts, documents, images, and tags
Historical record — portals are not deleted after a project is completed. This means you can access historical records of communication, documents and comments